-->




"Sangre y Sal" Tour 2018:
On tour from March with new repertory

Daniel Puente Encina starts his German tour in the middle of March in Berlin. He is currently working on his third solo album, Sangre y Sal (Blood and Salt).

This new collection finds its inspiration in the mark left by Africa on the criolla music of Peru, Argentina and, naturally, his home country, Chile. The result is an astonishing, and—as always—danceable range of sounds: Afro-Peruvian rhythms with dashes of flamenco, Guaguancó (Cuban Rumba), Argentinian Zamba and Peruvian Waltz are organically and naturally interweaved with Latin Swing and boleros, whose common denominator is the exquisite, sophisticated percussion of cajón and congas, together with Daniel's Spanish guitar, in true explosion of leather and wood.
In addition to the newly-penned tracks on this upcoming album, Daniel will be playing classics from earlier albums and bands.

"...truly "good vibe" music..." HAMBURGER MORGENPOST
"...explosive, deep and sexy..." KIELUX MAGAZIN
"...a real crack team..." BRAMSCHER NACHRICHTEN
"...throbbing, thrilling joie de vivre..." NEUE OSNABRÜCKER ZEITUNG

Since January 2018 Daniel Puente Encina belongs to the official Artist Roster of Godin Guitars. A special thanks to Trius Music from Ibbenbühren. 01/24/2018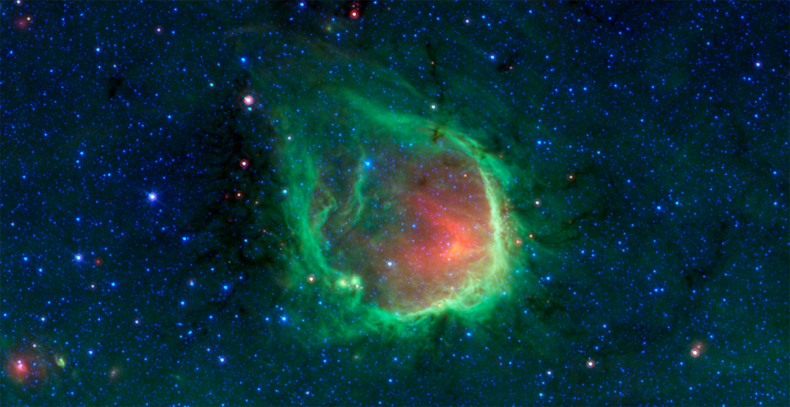 Glowing emerald nebula. Photo © NASA/JPL-Caltech
Merry Christmas and a Happy New Year!
My thoughts on the year coming to an end: 2017 was certainly an interesting, very inspiring year, at times exciting and (in general) extremely positive on a personal level, despite the odd hardship and a few frightening scares for dear friends and pets, which I thankfully need not explain in any more detail as they went no further than that, just scares. And despite the now distressingly familiar world political and economic situation, which is enough to make you pull your hair out, with all the selfish and stupid decisions being taken by our current crop of politicians. Decisions that cause so much pain to so many living on the margins of our world, who, unfortunately, still represent the majority of us on this planet.

Musically speaking, it was a year of highly enjoyable—or simply spectacular—events, including the concert at the cutting-edge Nordart event and the rediscovery of great Afro-Peruvian music at the hands of some truly brilliant Peruvian musicians who crossed my path. In short, I can only feel truly lucky and very thankful.

2018 will be full of challenges, including my new album Sangre y Sal (Blood and Salt) and a short film in which I'll be both acting and composing the music. It's feels like i'm on a sleigh ride heading straight for the stars. Let's hope I don't bump into the ceiling on the way.

So, I can only be grateful for this year coming to an end and that about to begin. I wish you all love and peace, and would like to give my heartfelt thanks to all those who have made and are making these years—both coming and going—more caring, more interesting and, in short, more livable. In other words, to all of you.

12/24/2017



Merry Christmas and a Happy New Year!


Furious Latin Grooves Tour 2017



Daniel Puente Encina: "We are ready to kick off our 2017 "Furious Latin Grooves Tour" starting in Berlin in the middle of March. Alongside multi-percussionists Vito Giacovelli from Italy and Jean-Luc Jossa from Luxembourg, French bassist Hugo Reydet, German trombonist Jörg Bücheler and tenor saxophonist Pedro Vera, we are looking forward to meeting people from all over the world who sing and dance with us together during our concerts.

I love to do what I am doing. We travel all over and the people who come to my concerts give me the feeling that there is always an "us" enjoying music together irrespective of where they come from. There are so many interesting and creative cultures on this planet we can learn from. So much knowledge to share to make the world a better place. Reach out for the good things in life that matter: Love, respect and faith in each other.

I want peace for all of us, and the animals and plants too, as they also inhabit the Earth and they are part of our terrestrial planetary family."

02/09/2017



Daniel Puente Encina feat. New York soul singer Monica Green

"Mike Tyson Radio Mix" and "Lío Radio Mix": the original songs form part of the album "Disparo" (Shot). To create these versions Daniel Puente Encina invited New York soul singer Monica Green, granddaughter of Margaret "Maggie" Price of The-Cabineers, to give them with her backing vocals an amazing touch of "Motown". Minimalistic arrangement with impressive, powerful sound. An electric guitar, which seems to have been plucked from the muddy swamps of the Mississippi, accompanied by bass, congas and djembes and above all, two charismatic soulful voices produce a progressive, new and exciting style: "Merengue Afro Funk" and "Furious Latin Blues", as Daniel calls his newest creations. The two singles are available on iTunes and Spotify. 02/01/2017
Now available on iTunes and Amazon amongst others!



Daniel Puente Encina: "After years of casting my critical eye over the technological revolution affecting us all (of which the music industry was the initial pioneer and the first victim), I have now decided—given the clamour from my beloved, faithful fans—to make my musical available on leading platforms like iTunes, Amazon, Spotify, etc. I don't want to anyone to go without my music, and now it can be found in digital format, for everyone, around the world. I really hope they'll all be able to enjoy the warm embrace of this musical hug!"

08/26/2016
May 1st, International Workers' Day: Daniel Puente Encina presents his astonishing new animated music video "Freire"

Freire, a hybrid between a short animation and a music video, created by the team of art director and illustrator Cristián Montes Lynch, tells the tale of a worker at one of the numerous mines dotted throughout the Andes, who has to cycle hours and hours to and from his job.

On his way, there is a treacherous crossroads that has claimed the lives of countless travelers. Our (anti)hero has nothing, nothing except the hope of reaching his village, celebrating the fact he is still alive and asking his girlfriend for a dance. A tale that reflects wretched, exploited existence of workers in an industry that creates untold wealth.

"A situation that has remained unchanged for centuries", notes Daniel. "The video is in the style of the graphic design of the 60s and 70s, in the Chile of the Unidad Popular, when social movements reached their peak before being savagely repressed throughout Latin America. The song reflects my critical view of the unjust, dysfunctional system that is capitalism, despite the fact that I've always hated telling people how to act or think in my songs. I try to be poetic and depict the feelings and thoughts of any ordinary person who appears to have no say or influence in an all-powerful, distant and indifferent system. But it is that small, fragile voice that I find so interesting, because it is free and true". 05/01/2016


| | | | |
| --- | --- | --- | --- |
| | | | |



International recognition for Daniel Puente Encina

The renowned Centro Nacional de Música Popular del Instituto Cubano de la Música has invited Chilean composer, guitarist and singer Daniel Puente Encina to the island in December, alongside other world-class musicians, to give four concerts at the 2015 Havana International Jazz Festival. He will be accompanied by multi-percussionist Vito Giacovelli and double bassist Umberto Calentini, both from Italy.

This world-ranking jazz festival is chaired by the great musician and composer Chucho Valdés, one of the world's four top pianists and an eight-time Grammy award winner. Taking part in this festival is a mark of great international prestige for Daniel and paves the way for future projects worldwide, as Cuba is becoming a must-visit destination for businesspersons and holidaymakers alike from around the globe seeking new ideas. 11/01/2015
| | | | |
| --- | --- | --- | --- |
| | | | |



Photo Uwe Merker

"The craziest concert I've ever done"

Daniel Puente Encina, together with Japanese bassist Akira Ando and Italian percussionist Vito Giacovelli, had a great time giving a really special performance: a full concert that took place on a moving tram. Quite a challenge for the the group!
This original concept, called Musikersatzverkehr, took place in the German city of Braunschweig, which, every month, holds a concert on a tram. This time, they invited Daniel Puente Encina's group, who were on tour in Germany. The 80 audience members enjoyed an exclusive, different show. This truly unforgettable occasion was documented by German TV station NDR for their show Hallo Niedersachsen. "The craziest concert I've ever done", commented a smiling Daniel. 03/15/2015
| | | | |
| --- | --- | --- | --- |
| | | | |
Daniel Puente Encina's European tour a triumph

This Latin trio are a smash hit: Daniel, alongside Colombian bassist Checho Gómez and Italian percussionist Vito Giacovelli, are making people dance and sing wherever they go. Be it at the Copenhagen Jazz Festival, at the launch of their new CD in Berlin, with three performances in Eckernförde to completely packed venues, or at their concerts this summer in the south of Italy, the trio are having and making a whole lot of fun with their music, which public and press alike are acclaiming as "the sensation of the year". One of the highlights of the German tour will come in October, when they'll be sharing the stage with Manfred Mann's Earth Band for the second time. 09/15/2014


"....one of the year's most exciting Latin CDs...." FOLKWORLD

"....breathtaking spectacle...." SUBWAY MAGAZIN

"....A musical explosion...." KIELER NACHRICHTEN

"....compelling, expressive and authentic music...." ECKERNFÖRDER ZEITUNG

"....his music, seems to have jumped right out of the soundtrack of From Dusk
Till Dawn...." ZITTY BERLIN

Photos ©Roger Askew Tour Photography
New album on sale!

CHOCOLATE CON AJÍ

14 stunning tracks do great justice to this album's name, combining the sweetness of chocolate with the spicy edge of ají (chilli).
Rousing orchestral arrangements of Latin music, furious Boogaloo and classic RnB alternate with seductive indie-pop ballads. Chocolate con Ají connects genres as different as blues, rock, hip-hop, tango, samba and even South American folk. Chocolate con Ají is the second work launched under his own name. 07/01/2014

Recording the base of the new album on Majorca

Recording the base of the new album in Digitals Pro in Cas Català Nou on Majorca con Toni Fernández, Daniel Puente Encina, Pep Lluís García, Pablo di Salvo and Toni Paris. 10/25/2014

Photo (c) Toni Fernandez

Daniel Puente Encina starts his German tour at the beginning of June


The Berlin Umweltfestival and the romantic castl e of Wolfsburg, which provides the setting for the "International Sommerbühne" series of concerts, will be the starting point of Daniel's tour across the length and breadth of Germany. In Wolfsburg, he will be accompanied by Majorcan percussionist Pep Lluis Garcia and Argentine double bassist Pablo di Salvo, to offer a special repertoire of his "Furious Latin Blues", "Dirty Boogaloo", "Rebel Tango" and "Flamenco Tex Mex". 04/15/2014

Daniel Puente Encina Trio

Monica Green and Daniel Puente Encina record together

Just before kicking off his German tour Daniel invited Monica Green, New York soul singer, to the Gerona recording studio 44.1 to take part in the recording of new versions of two of the tracks on his latest album. Their mutual love for Rythm & Blues has brought together these two outstanding artists based in Catalonia. When Monica Green listened to the tracks "Lío" and "Mike Tyson", she fell in love with Daniel´s authenticity and originality. The tracks off his current album "Disparo", with Boogaloo and Rythm & Blues bases, which Daniel defines as "Furious Latin Soul", excited the American singer. "You don't sound like anyone else," were her words, "and you have your own style", so Daniel asked her to sing a few lines to add that Motown and Mod touch to the chorus, which both of them hold so dear.

04/30/2013


Video on YouTube
Premiere in Germany: Daniel's diabolic duo thrills with "Furious Latin Soul" in Berlin


With percussionist Pep Lluís García he found his perfect match and surprises with this diabolic duo, which thrills with an exceptional and exciting sound. An astonishing Dobro guitar accompanied by congas and cajon, and above all the powerful, charismatic and soulful voice of Daniel create a progressive, new and exciting sound: Latin-Soul, Latin-Rock, Latin-R&B at its best.

Pep Lluis García is a drummer and percussionist with a totally original style, the product of a self-taught introduction to music, which has been reinforced by his intensive studies with Peter Erskine, Alex Acuña and Salvador Font and Latin percussion classes with Cuban maestro Miguel Angá Díaz. He has taken part in projects like "la Gran Orquesta Republicana", "the Nash", supporting act for "The Buzzcocks" in England, with whom he toured Europe and part of the United States, the comedy-musical group "Wonderbrass", and he has also accompanied international artists of the stature of Jeanette and Tony Ronald. 01/15/2013

Photos Roger Askew Photography

Daniel Puente Encina releases an album under his own name for the first time

The composer, guitarist, songwriter and singer Daniel Puente Encina now presents his new album "DISPARO". The album contains nine unpublished tracks and an updated cover version of Botellas contra el pavimento as a tribute to his very first band. An astonishing electric guitar accompanied by French percussionist, Didier Roch, with congas and djembe, and above all the exceptional, powerful and soulful voice of Daniel create a progressive, new and exciting sound: Latin-Soul, Latin-Rock, Latin-R&B at its best. Spanish never sounded so funky! 04/01/2012
PRESS

LA VANGUARDIA

MALLORCA ZEITUNG

VIA X

Radio Eins (rbb) live
aus dem Admiralspalast
more